Watch out for these 2019 stone design trends
Interior design industry is always abuzz with the newest fads and latest home design trends. With half of 2019 already over, interior design experts are now forecasting décor trends that will dominate the next half.
Fresh color schemes, contrasting, bold exterior makeovers and earth-bound patterns such as natural stone design trends are already under the radar of the experimental new-generation house-owners. Latest interior design trends are seeing inclusion of natural stone to create gorgeous stone designs for home, stone designs for offices and stone exterior house designs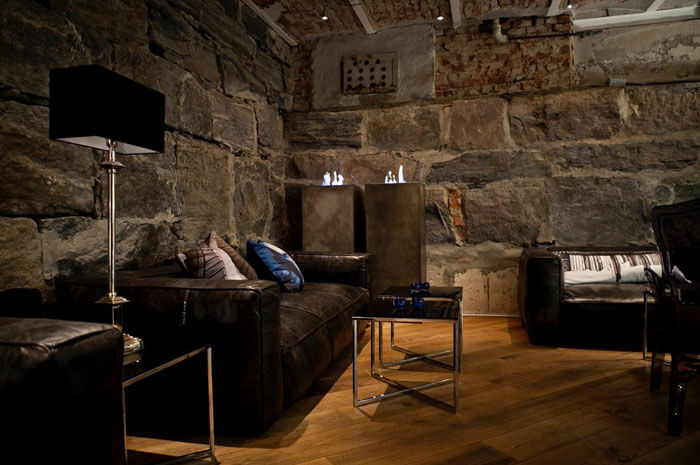 BluEntCAD's expert design and drafting team works closely with industry professionals to generate high-quality stone shop drawings for a variety of spaces. With natural stone, there is a wealth of style ideas that will suit your functional requirements and aesthetics.
Marble and granite are some of the most familiar choices for creating stone detail drawing. There are others too and depending on how you want your residential or commercial space to appear, you can go all-in or experiment with mix and match. Either way, the outcome will be a soothing, earthly blend of contemporary and natural world.
Marble
Whether it's the Taj Mahal or Michelangelo's David, marble has been architects' Number One sculpting choice for centuries. And rightly so.
A fine texture, striking veins and extensive color options make marble rightfully make it the ultimate status symbol for luxury, refinement and sophistication – thereby making it extremely popular among contractors and homeowners alike.
Marble is considered a soft stone: it rates a 3 on Mohs Hardness Scale, the reason why it's the choice of stone for sculpting. Contrary to the popular traditional Italian white varieties, there are several colors and styles to choose from and which add the right aesthetics and elegance to your house. It is scratch-free and does not age easily, adding a timeless charm wherever installed.
Needless to say, you can create opulent aesthetic structures with marble to showcase its classic grandeur.
Granite
Granite is another classic choice for creating designs with natural stone in the modern homes. Formed from molten lava, granite creates sturdy, affordable and beautiful stone house designs.
The veins and swirls that you see on the granite stone surface are the result of tectonic plates lifting during cooling process, giving every slab a unique pattern. Fascinatingly, no two individual pieces are identical, even if they're from the same quarry!
On the Mohs scale, Granite is a 7. It can withstand scratches and etches of everyday wear and tear. It is heat-resistant too so it can be used generously in closed spaces. Plus, with its unique patterns, you can create countless patterns and ornamentations.
Quartzite
As the appreciation grows for its beauty and durability, quartzite is taking the center stage in the interior design world. A naturally occurring metamorphic rock, quartzite is initially sandstone which then evolves over time under intense pressure and heat. It is heat-resistant and strong and to the inexperienced eye, can be very similar to marble. It also rates around 8 on Mohs scale, pretty similar to granite.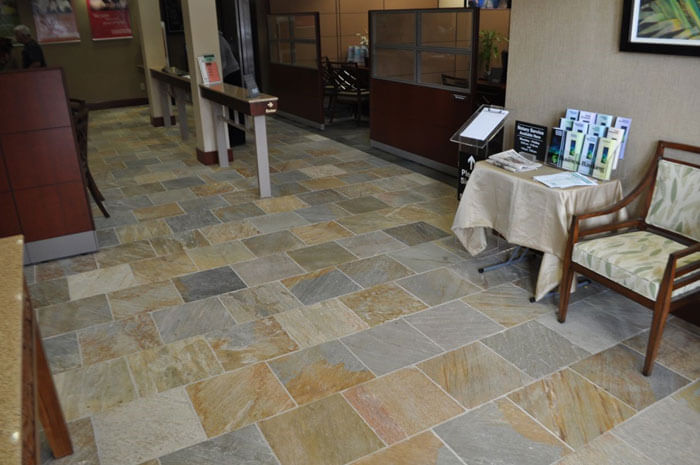 Image credits: Elegant Natural Stones
Quartzite is scratch resistant and is non-soluble in acid. This unique trait makes it a favored choice for surfaces that are often exposed to chemicals or acids such as kitchen countertops, factory sinks etc.
Limestone
Limestone is a versatile natural stone. It is durable and opaque. The fact that it resists flaking, peeling and chipping limestone is popular with interior designs to create a classic, timeless look. Naturally occurring as white in color, limestone can be chemically combined to create colorful finishes including pink, red, gold, brown, black and cream.

Image Credits: HCD Magazine
Naturally occurring limestone consists skeletal fragments of marine organisms such as mollusk and coral. It has few pore spaces with a strong density which means it can withstand colder temperatures and abrasion. It is eco-friendly, low maintenance and cost-effective which means you get value for money when you go for limestone interior design. Ask any of BluEntCAD's experts to create unique limestone shop drawings for your new project today.
Fieldstone
Fieldstones are typically used outside as garden features or for creating exterior boundaries, walls and for creating enclosed garden spaces. They derive their name from the fact that farmers pull them out from agricultural lands for enhancing their effectiveness. Fieldstones are available in several shapes and make excellent retaining walls and exterior facades. When used inside, they make amazing accent walls giving the room a warm and welcoming vibe. They add a rustic and eclectic touch near fireplaces too.

Image credits: VIF Studio 
Natural stones create a Zen-like ambiance, a safe haven from the noise of the outside world. Designs in natural stones vary as widely since the stones vary in color and texture. They are unlike anything which is machine or factory-made. Using natural elements such as stones, textures and earthy tones create a man-nature connect and they are eco-friendly, affordable and long-lasting. Follow these stone design trends to give your home or office a new makeover!
Trend One: Playing with patterns, materials and finishes
The second half of 2019 will see an eclectic but cohesive mix of tactile surfaces and materials – natural wooden panels over concrete floors for instance, or soft furniture combined with glass tables – to create a harmonious balance of natural and industrial layout.
You can also create book-matched and quad-matched stone tiles for kaleidoscopic patterns. Not only will there be visually appealing vein patterns but the yield of your slab will also increase as you can add the same material to adjoining baseboard and trims. The thinking behind this is to add a subtle reminder that the fast paced modern life should balance with tranquil moments.
Sintered compact surfaces which mimic natural wood floors, combination of wooden flooring with granite or marble countertops or tabletops or a rich textured backsplash with the grandeur of marble or granite flooring; are all-embracing ideas for the better half of 2019 to come!
Trend Two: Stone bungalow designs with linear ashlar stone profiling
Ashlar-cut stone is a product of natural limestone, slate or granite and has minimal mortar joints. It has a great texture and can be stacked randomly or organized into a pattern with smooth top and bottom. Ashlar-cut stone has a strong linear dynamic which adds a distinct modernist imbue to ranch-style or low-hung bungalows.

Image credits: Buechelstone
The stone style is accentuated when juxtaposed with rich textured wood panels around entryways or façade features. You can also create a continuous effect by lining up veins of multiple slabs to continue their flow. This will give the illusion of a bigger slab without repeating the pattern.
Trend Three: All Clad
Stone cladding is nothing but a layer of natural stones applied to walls creating the effect of wall being made of stone itself. While artificial stones are available for this purpose, natural stones are preferred by designers for creating exterior home designs with stone.

Image credits: Aria Stone Gallery's Cristallo Tiffany Quartzite
Natural stone cladding is produced by quarrying stones and milling them into thin pieces. Cladding can be done for different type of stones such as granite, marble, slate, quartz etc. Since every stone has a different texture, you can achieve multiple aesthetics with natural stone cladding.
European designers have been using cladding for decades. Stone cladding is set to bombard the American interior landscape this year as well, experts predict.
Trend Four: Stone Veneers for accentuated highlights
Texture adds marvels to literally anything and natural stone veneer designs are all set to rock 2019 home design trends.
Detailed natural stone veneer adds a lot of flair to your real estate project. You can accentuate architectural elements or landscaping features by applying veneer with numerous profiles, patterns and cuts which entice your guests' eyes. Veneer can be used in both interior and exterior entryway on portal treatment or front doors. You can also combine it with old styled windows and high-rise arches.

Image Credits: Real Stone Systems
These trends, experts predict, will not stop only at walls. Clever artisans can utilize stone shop drawings to create breathtaking marble sinks, pop-up outlets, stone sink drains, clad cabinetry and shelf backsplashes. And remember, it always pays to consult a professional for your shop drawing service requirements. After all, stone or tile can only be cut once. So, having the right professional guidance is of utmost importance. They can help you create mesmerizing natural stone designs which will add beauty, value and sophistication to your home as well as add a rustic, earthly and natural touch to your space.
Source: https://www.bluentcad.com/blog/stone-design-trends
Leave a comment